Businessolver Benefits Insights Data Reveals Impact of Personalization on Benefits Engagement

Businessolver / Feb 28, 2023 / /PRNewswire / / Read Article

Businessolver®, a leader in SaaS-based benefits technology and services, today released its fifth annual comprehensive benefits insights report showing the positive impact of personalized benefits content on employee engagement, decision making, and employer return on investment (ROI).

"Our analysis across the entire benefits journey illustrates that personalized decision support in benefits is critical to driving employee engagement and employer cost management," said Sherri Bockhorst, Businessolver Head of Consumer Experience & Strategy. "Employee benefits confusion continues to trend high, but employers who leverage decision support, see marked improvement in how employees optimize their benefits at selection as well as how they engage with their benefits year-round."

Bockhorst revealed, "After five years of high benefits confusion, employer expectations must shift from 'fixing' benefits literacy to providing employees with the tools to optimize, access, and engage with their benefits. Decision support and personalization is the answer to bridging the benefits literacy gap and helping employees make their benefits work harder for them—especially at this inflationary time."

Key findings from this year's study include:

85% of employees are confused about their benefits, up two points from 2022. This number has shown no improvement over the last five years.
45% of employees would feel panicked about a large, unexpected expense like an ER bill, up one point from 2022.
67% of employees actively sought support through chat or calls with SofiaSM, Businessolver's proprietary virtual benefits assistant, with an average 90% resolution rate.
60% of employees who used Businessolver's MyChoice® Recommendation Engine (MCRE) decision support tool elected a high-deductible health plan (HDHP) and a health savings account (HSA). When MCRE is not available or not used, only 20% enrolled in an HDHP and an HSA.
46% of employees logged into Benefitsolver four or more times after enrollment when additional benefits services are available (such as FSA and HSA, or personalized communications). This compares to only 20% when no personalized services are included.
45% is the average open rate for personalized benefits-related emails.

This data tells a story: While benefits confusion remains high, employees are willing to more actively engage with their benefits. When this engagement is guided by decision support or personalized, it removes the burden of having to understand the many complexities of benefits while helping employees make decisions that support their lifestyles and total wellbeing.







Tested Employee Benefits That Keep Our Retention—And Productivity—High

Mike Kappel / Forbes / Feb 22, 2023 / / Read Article

A large part of having a positive employer brand is offering the benefits employees want. I'm talking about the tangible and intangible workplace benefits that make them get out of bed each morning and stick around during periods like The Great Resignation.

My company, Patriot Software, strives for top-of-the-line employee benefits. And thanks to our all-star People Ops Team, we're always researching and analyzing benefits that align our company's goals with employees' needs.

Here's what we've found.

6 Employee Benefits Workers Want

1. Generous Pay
2. Paid Time Off
3. Remote Work
4. Ownership
5. Health Benefits And 401(k) Company Match
6. Tuition Reimbursement




Crafting Benefits for Onsite vs. Offsite Employees

Lin Grensing-Pophal / SHRM / March 1, 2023 / / Read Article

One benefit that appeals to many employees—whether working remotely, in a hybrid model or entirely onsite—is flexibility, according to research from Gusto, a San Francisco-based payroll and benefits platform for small and medium-sized businesses. Flexibility is a main factor both in deciding whether to stay with an employer and in considering whether to accept a job offer. According to Gusto's research:

Among workers who declined their last job offer, 45 percent said flexibility or work/life balance was the most important factor in their decision.

Among all respondents, 48 percent said being able to work from home some or all of the time would be either the most important or a major factor in deciding whether to accept a future offer.

Research by New York City-based consulting firm Buck supports these findings, said Tom Kelly, a principal in Buck's health practice. However, he noted a significant difference between generations: 41 percent of Millennials said they want more job flexibility, compared to only 26 percent of Baby Boomers, according to Buck's 2022 Well-being and Voluntary Benefits Survey.
https://buck.com/report-2022-wellbeing-and-voluntary-benefits-survey/




What do your benefits say about your company's culture?

Lee Hafner / ebn / March 01, 2023 / / Read Article

When a list of benefits stands alone on a job posting, it can sound like standard issue workplace jargon. That's why more employers are advertising their company culture as a way to set themselves apart. By intertwining the two, companies can create a more compelling presentation and entice talent.

According to a survey of 2,000 workers by SHRM, 88% gave consideration to benefits over pay. Likewise, Team Stage found that 88% of job seekers say that a healthy culture is vital for company success. Though benefits and culture are typically thought of as two different concepts, they are just different sides of the same coin, says Alex Frommeyer, CEO of healthcare company Beam Benefits. Incorporating culture into any benefits conversation helps an organization demonstrate a desirable theme: this company cares about its people.

"We typically think about benefits as a very tactical thing — health insurance, 401(k), they're very tangible. But employers are increasingly articulating the merits of their culture as a way to attract and retain talent," Frommeyer says. "They can dribble the physical products and programs they offer in front of their employees all day long, but it will never matter unless they can connect them back to their values."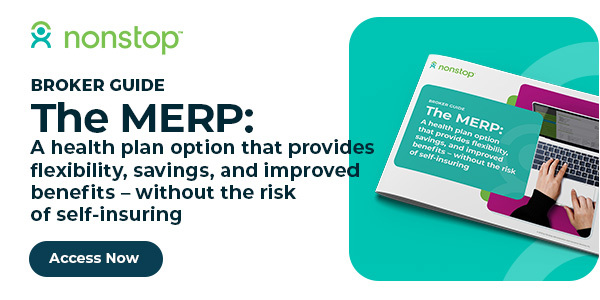 Healthcare costs were through the roof in 2022, and 2023 promises to be no different. In light of these challenges, many organizations are turning to Medical Expense Reimbursement Plans (MERPs): a proven alternative to traditional employer-provided health benefit plans, reducing both risk and unpredictability. That's why we're excited to share this handy guide to MERPs.
What are MERPs?
MERPs are a broad categorization of different types of tax-advantaged reimbursement plans. Similar to traditional HRAs, they are vehicles through which employees can be reimbursed for eligible medical expenses.


What does this guide cover?
How MERPs differ from traditional plans

Why MERPs are often better than traditional plans for your clients

What makes Nonstop Health's MERP solution better than popular HRAs
Access the guide now for a deeper understanding of this innovative health benefit solution.
Long-term care insurance via an annuity has many pros, some cons

Feb 28, 2023 / Ken Nuss / Medical Economics / / Read Article

It lets you insure for long-term care while still protecting and growing your assets Insurers continue to innovate.

Long-term care — whether at home, in assisted living or in a nursing home, costs a lot — especially if it continues for years. To protect their finances and leave something for their heirs, many people would like to buy long-term-care insurance (LTCI).

But LTCI isn't cheap. And there's a big drawback. If you buy it and never collect any benefits, you'll have spent a big sum of money and not gotten anything in return except peace of mind.

To get around the problem, insurance companies developed the long-term-care annuity. This combines a deferred fixed annuity (a tax-deferred savings vehicle) with LTCI. The insurance is provided via a long-term-care rider, a policy add-on that lets the annuity pay benefits for long-term care.

If you don't ever use the LTCI benefit, or not much of it, you or your heirs will have the remaining annuity value to use.

But LTCI annuities are complex and can have lots of moving parts, so they have both pros and cons. While the concept isn't new, insurers are always looking to improve their products and offer more flexibility and features.

Because the products are varied, a brief article like this can't be comprehensive. But there are pros and cons that are pretty much common to all these products.




Five Reasons to Automate Your Benefit Enrollment Process

March 1, 2023 / John Weber / telecompetitor / / Read Article

The benefit open enrollment period is crucial for any human resources (HR) team. It can be time consuming, but thankfully, there are ways that organizations can reduce repetitive tasks and automate manual processes. With the help of benefit-enrollment software, you can provide employee benefits without hassle or headaches.

See how implementing benefit-enrollment software can help your organization with these top reasons to automate your benefit-enrollment process.

1. Increased Efficiency
2. Improved Accuracy
3. Convenience
4. Improved Employee Experience
5. Save Company Resources

It costs only about $22 when an employee self-enrolls in benefits online, as opposed to around $110 when the HR staff manually enrolls the employee, according to www.CFO.com.




Thousands of WA workers may have to repay millions of dollars in pandemic benefits

March 1, 2023 / Paul Roberts / Seattle Times / / Read Article

For the tens of thousands of Washingtonians being asked to repay more than $1 billion in pandemic unemployment benefits, state plans to cancel some of that debt are getting complicated.

In January, the state Employment Security Department said it will review the cases of around 136,000 Washingtonians collectively on the hook for $1.2 billion in "overpayments," or jobless benefits ESD says they shouldn't have received.

Under a federal waiver program, ESD will be able to cancel some of those overpayment debts, which are often for tens of thousands of dollars, in cases where the overpayment isn't found to be the fault of the claimant. ESD plans to start the review process in late March.

But this week, ESD reset expectations for that relief.

First, only 21,000 or so claimants can count on having their debt waived, the agency said. How many of the remaining 115,000 might be eligible for debt relief or when they'll find out isn't yet clear, in part because ESD is short-staffed and can't count on extra funding for the complicated review process.




HUB INTERNATIONAL EXPANDS COMMERCIAL AND PERSONAL INSURANCE, EMPLOYEE BENEFITS CAPABILITIES WITH ACQUISITION OF THE ASSETS OF DWIGHT W. ANDRUS INSURANCE INC., DWIGHT ANDRUS & RICHARD INSURANCE, INC., AND DAI SHREVE, LLC IN LOUISIANA

Hub International Limited / Mar 02, 2023 / PRNewswire / / Read Article

Hub International Limited (Hub), a leading global insurance brokerage and financial services firm, announced today that it has acquired the assets of Dwight W. Andrus Insurance Inc., Dwight Andrus & Richard Insurance, Inc., and DAI Shreve, LLC (Dwight Andrus Insurance). Terms of the transaction were not disclosed.

Headquartered in Lafayette, Louisiana with six additional locations in the state, Dwight Andrus Insurance is one of the largest independent insurance agencies in the country with 130 employees. For more than 75 years, Dwight Andrus Insurance has provided commercial insurance, surety and bonding, captive and alternative risk insurance, personal insurance, and employee benefits.




MoveEV Launches First-of-its-Kind AI-Driven Employee Benefits Solution for Electric Vehicle Adoption

February 28, 202 / GlobeNewswire / / Read Article

MoveEV Launches First-of-its-Kind AI-Driven Employee Benefits Solution for Electric Vehicle Adoption

MoveEV , the first-of-its-kind AI-driven green tech solution designed to make it easy for companies to accelerate electric vehicle (EV) adoption, launches its innovative EV employee benefits solution. MoveEV's out-of-the-box SaaS HR benefits solution makes EVs accessible for employees, helps them take advantage of federal, state, and local EV adoption incentives, and takes the guesswork out of EV adoption. The MoveEV employee benefits program also helps employers reduce their carbon footprint, attract top talent, and achieve their net-zero emissions targets by 2035.



PHOTO OF THE DAY
ARCHIVES
Tuesday, 02/28/23 - - Humana to exit employer insurance business to focus on government plans

Wednesday, 03/01/23 - Why Employers Prefer Employer-Sponsored Health Plans Over Exchanges

Thursday, 03/02/23 - - Optavise Annual Benefits Broker Survey: Employers Turn to Voluntary Benefits, Communications Support from Brokers to Rein in Healthcare Costs?

Friday, 02/24/23 - - Amazon Achieves Closing Of One Medical Deal, Officially Entering Doctor Clinic Business
Editorial Mission Statement: The goal of this publication is to provide readers a broad selection of what is being written about the insurance industry and related issues. Some articles may have a "tilt" towards a particular perspective one way or another. Inclusion in this newsletter is not an endorsement of any views or content; but report the various and differing views appearing in media.
About Us: The "Daily Insurance Report" is now subscribed to by 25,000 elite insurance industry influencers who receive it Monday - Friday and have a quick overview of what is appearing in the media regarding the insurance industry; with an emphasis on life, health, and employee benefits