Optavise Annual Benefits Broker Survey: Employers Turn to Voluntary Benefits, Communications Support from Brokers to Rein in Healthcare Costs
Optavise / CNO Financial Group / Mar 01, 2023 / PRNewswire / / Read Article
Optavise, a one-stop-shop for employee benefits programs, combining products, technology, and expert guidance, today released a new report, The 2023 Benefits Broker: Rising Healthcare Costs and Increasing Competition Set the Tone. The seventh annual report found brokers are adding innovative products and services due to various market forces, which include rising healthcare costs (81%), competition from other brokers (50%), and increased demand for price transparency (48%).
As employers refocus on recruiting and retention while juggling inflationary pressures and rising healthcare costs, they are relying even more heavily on their brokers for help identifying meaningful and cost-effective products and services. In fact, 83% of brokers reported that clients rely on them to contain healthcare costs and 60% of brokers reported that employers rely on them to identify products and programs to meet evolving employee needs.
New benefits offerings focus on financial concerns
Sixty-four percent of brokers saw an increase in clients adding voluntary benefits, up from 58% in 2021. The top three most added benefits remained the same from 2022: accident insurance (71%), critical illness (68%), and hospital indemnity (39%). Employees and employers seem to be increasingly focused on income protection: respondents reported that interest in disability almost doubled (from 18% to 34%) and life insurance tripled (30% combined for group and whole life, up from 10%), while pet insurance (19%, down from 28%), ID theft (13%, down from 20%) and legal protection (11%, down from 20%) all saw declines as compared to the 2022 survey.
Communication remains critical
Beyond creating comprehensive and attractive benefits packages, employers are tapping brokers to communicate benefits information to employees. Ninety-three percent of brokers reported seeing moderate to high demand for help with benefits communications materials, and 66% agreed that offering communication services brings a lot of value to their business.
Lessening HR teams' burden through benefits technology/administration
Employers rely on their benefits administration partner to help assure compliance, contain costs, and personalize the employee experience. Finding the right fit appears to be problematic: 56% of brokers said they recommend benefits administration partners to clients annually (compared to 48% in 2022) with the biggest challenges to implementing the proposed timeline (70%), complex file feeds (58%), and the availability of on-going support (65%) and administrative training (59%--almost double the response from the 2022 survey). When asked about the top three features clients want in their benefits administration system, brokers said ease of use (75%), API/third-party integration (47%), and single sign-on (41%).


Lilly to cut insulin prices by 70%, cap costs at $35 per month for people with private insurance
MAR 1 2023 / Spencer Kimball / CNBC / / Read Article
KEY POINTS
Lilly said it will slash list prices of its Humalog and Humlin injections by 70% in the fourth quarter.
The company will cap out-of-pocket costs for people with private insurance at $35 per month at participating retail pharmacies.
The announcement comes amid growing federal pressure to lower insulin prices.
Leading with Compassion Has Research-Backed Benefits
by Stephen Trzeciak, Anthony Mazzarelli, and Emma Seppälä / Harvard Business Review / February 27, 2023 / / Read Article
With burnout rising, employee engagement falling, and and people continuing to quit their jobs even in the midst of economic uncertainty, organizations must sharpen their focus on employee retention. While compensation and benefits are an important part of retaining employees, the source of lasting loyalty to an organization is typically something deeper.
Recent evidence supports this. Contrary to what many employers currently believe, the recent wave of employee attrition has less to do with economics and more to do with relationships (or lack thereof). The data support that employees' decisions to stay in a job largely come from a sense of belonging, feeling valued by their leaders, and having caring and trusting colleagues. Conversely, employees are more likely to quit when their work relationships are merely transactional. So, how do leaders foster more meaningful relationships in organizations and inspire loyalty? In a word: compassion.
How Talkspace's text therapy helped healthcare workers in the wake of the pandemic
Deanna Cuadra / ebn / March 01, 2023 / / Read Article
For a field with long, unpredictable hours alongside constant exposure to human suffering, the healthcare industry does not often have mental resources readily accessible for its workers. Mental health care provider Talkspace wants to change that.
In March of 2020, Talkspace offered asynchronous text therapy to over 600 healthcare workers from a variety of hospitals across the country, and the results are in. Within three weeks, 56% reported improved symptoms for anxiety and depression.
90% Of Employees Are Missing Out On Improving Their Take-Home Pay Through Benefits
February 28, 2023 / PRNewswire / Yahoo Finance / / Read Article
New research highlights that communication breakdown has led to employees being unaware or misinformed about their benefits package; 28% said their company did not offer benefits or weren't sure if they did.
In addition, 37% of employees are not taking advantage of the benefits available to them due to a lack of compatibility with their needs.
Sodexo Engage's new research looks to bring this expectation difference into the light and help businesses increase benefits takeup
Communication – or rather the lack thereof – is contributing to the poor uptake of workplace benefits and rewards, according to new research from the leading expert in employee engagement,
The research revealed only 11% of employees are taking full advantage of their benefits and just 10% have received advice on how they can use their benefits to help their salary go further. This shows a clear lack of HR-to-employee communication regarding benefits, leading to a majority of employees being unaware of the opportunities available to them.
Moreover, 28% reported that their organisation either did not offer any benefits or they weren't sure if they did. This further highlights the importance of employers considering the benefits they offer and how to effectively communicate them to their workforce.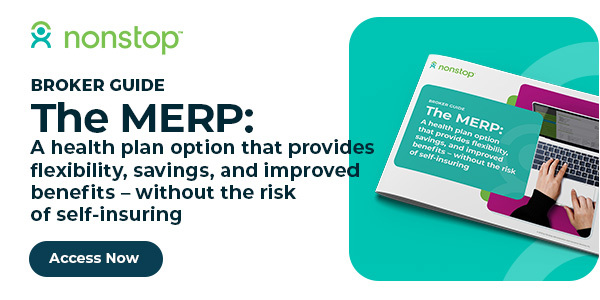 Healthcare costs were through the roof in 2022, and 2023 promises to be no different. In light of these challenges, many organizations are turning to Medical Expense Reimbursement Plans (MERPs): a proven alternative to traditional employer-provided health benefit plans, reducing both risk and unpredictability. That's why we're excited to share this handy guide to MERPs
Access Our MERP Guide For Brokers
What are MERPs?

MERPs are a broad categorization of different types of tax-advantaged reimbursement plans. Similar to traditional HRAs, they are vehicles through which employees can be reimbursed for eligible medical expenses.

What does this guide cover?
How MERPs differ from traditional plans

Why MERPs are often better than traditional plans for your clients

What makes Nonstop Health's MERP solution better than popular HRAs
Access the guide now for a deeper understanding of this innovative health benefit solution.
CloudMD Study Uncovers why Employees are not Utilizing Employer-Paid Health & Wellness Benefits when Stress and Burnout are at Record Levels
March 01, 2023 / CloudMD Software & Services Inc. / GLOBE NEWSWIRE / / Read Article
CloudMD Software & Services Inc. (TSXV: DOC, OTCQX: DOCRF, Frankfurt: 6PH) (the "Company" or "CloudMD"), an innovative health services company transforming the delivery of care, is pleased to share the results of its study conducted by ANDx Research Group: Unlocking the Potential of Employer-Provided Health Benefits. CloudMD sought to investigate what kind of healthcare benefits employees are using, what services aren't being used and why, and what could be done to improve utilization. Overall, the study identified a misalignment in the market today between the rise of employee mental health struggles and the limited utilization of support programs offered to them.
Key findings include:
Employees are feeling more stress and burnout, leading to lowered mental health and productivity in the workplace. Despite this, only 37% of employees are utilizing their mental health benefits. The least utilized services were Paramedical benefits for Mental Health and Employee and Family Assistance Plans (EFAP).
Employees who used paramedical benefits for mental health support reported greater satisfaction with their benefits offering than those who didn't utilize them.
The three biggest barriers to utilization include: confusion around costs and services available, lack of time to participate with the programs offered and wait time to access the services.
Employees want more choice in services, help navigating their benefits and coverage, proof that the programs work, and a better customer experience with less waiting.
Younger employees want more choice in services, while male employees wanted more evidence that the programs work.
There is a clear opportunity for companies to increase employee wellness and job satisfaction and thereby reduce burnout and absenteeism by removing the barriers that prevent employees from fully benefiting from the supports offered to them.
Missouri lawmakers shifting focus to state employee benefits
Ryan Pivoney / News Tribune / 03/01/23 / / Read Article
After raising state worker wages 20 percent in less than five years, Missouri Gov. Mike Parson said employment benefits will be the factor to make the state competitive in attracting and retaining employees.
"We're not going to compete with Boeing, Ford Motor Company and we're not going to compete with Dollar General stores if they're paying $21 an hour," Parson said. "I just can't do that, so I've got to convince my people to stay here and be loyal."
Parson signed the largest state employee pay raise in recent memory on Monday, giving state workers an extra 8.7 percent on their paychecks. The measure also includes a $2 per hour increase to the state's shift differential -- an extra bump in pay for those working outside normal business hours -- for congregate care staff within the Department of Social Services, Department of Corrections, Department of Mental Health and Missouri Veterans Commission.
The pay raise was seen as a tool to combat extreme staff turnover within state agencies and is the second of its kind within two years. Last year, lawmakers approved an emergency supplemental bill with a 5.5 percent raise and $15 minimum wage for state employees.