Why Employers Prefer Employer-Sponsored Health Plans Over Exchanges


Kelsey Waddill / HEALTHPAYER INTELLIGENCE / February 24, 2023 / / Read Article

Large employers find that employer-sponsored health plans allow them to maintain control over employee health plan choice and healthcare spending in order to streamline coverage for their workforces, according to an issue brief published by The Commonwealth Fund based on an Employee Benefit Research Institute (EBRI) survey.

Researchers from EBRI conducted interviews with 26 health benefits decision-makers. These executives worked at large firms in a variety of industries. Of the 26 interviewees, 25 employers were self-insured and most of them offered two or more types of health plans.

"The ACA presented an opportunity to challenge the status quo of employment-based benefits, with analysts predicting employers would eventually redirect workers to ACA exchanges. Yet the link between employment and health benefits has not wavered since passage of the ACA," the researchers found.

The interviewees highlighted three reasons employers did not shift enrollment to the Affordable Care Act exchanges.

First, respondents believed employers could offer better benefits at better prices than the Affordable Care Act exchanges. Additionally, they argued that employers simplify health insurance for their employees, who would otherwise be lost amid all the choices on the public exchange. Lastly, no major employer wanted to be the first to give up their healthcare benefits and send employees to the exchange.





FACT CHECK: Why the Medicare Advantage 2024 Advance Rate Notice Represents a Cut, Not an Increase


FEB 27, 2023 / AHIP / / Read Article

More than 30 million seniors and people with disabilities choose Medicare Advantage (MA) because it delivers lower costs, more choices, and better access to care. Any proposed policy changes to MA must be carefully considered and based on data and evidence – described clearly and based on agreed-upon facts. Unfortunately, the Centers for Medicare & Medicaid Services' (CMS) latest Advance Notice Fact Sheet breaks precedent with past rate notice changes, raising significant concerns about how proposals would impact premiums and benefits.

According to the 2024 Advance Rate Notice, CMS is proposing a 2.27% cut in MA rate payments - yet the agency claims an overall 1.03% increase. How is this possible? Simply, the agency does this by relying on an upward 3.30% "trend" that is neither supported nor relevant.

The final result is clear: the Advance Rate Notice represents a 2.27% cut in payments, just as the Medicare Trustees have projected that costs per Medicare enrollee for 2024 will grow 5%. These cuts will result in higher premiums and fewer benefits for seniors and people with disabilities.



CMS Waivers, Flexibilities, and the Transition Forward from the COVID-19 Public Health Emergency
CMS.gov / Feb 27, 2023 / / Read Article

Based on current COVID-19 trends, the Department of Health and Human Services is planning for the federal Public Health Emergency for COVID-19 (PHE), declared under Section 319 of the Public Health Service Act, to expire at the end of the day on May 11, 2023. Thanks to the Administration's whole-of-government approach to combatting the virus, we are in a better place in our response than we were three years ago, and we can transition away from an emergency phase.

The emergency declarations, legislative actions by Congress, and regulatory actions across government, including by the Centers for Medicare & Medicaid Services (CMS), allowed for changes to many aspects of health care delivery during the COVID-19 PHE. Health care providers received maximum flexibility to streamline delivery and allow access to care during the PHE. While some of these changes will be permanent or extended due to Congressional action, some waivers and flexibilities will expire, as they were intended to respond to the rapidly evolving pandemic, not to permanently replace standing rules.

This fact sheet will help you know what to expect at the end of the PHE so that you can continue to feel confident in how you will receive your health care. Please note that this information is not intended to cover every possible scenario.

This fact sheet will cover the following:

COVID-19 vaccines, testing, and treatments;
Telehealth services;
Health Care Access: Continuing flexibilities for health care professionals; and
Inpatient Hospital Care at Home: Expanded hospital capacity by providing inpatient care in a patient's home.





LIMRA: 2022 Single Premium Buy-Out Sales Topple Prior Record


LIMRA / Feb. 28, 2023 / / Read Article

Total U.S. single premium buy-out sales were $48.3 billion in 2022, up 42% from 2021 results, according to LIMRA's U.S. Group Annuity Risk Transfer Sales Survey. This marks the highest annual sales for single premium buy-out sales recorded in the U.S.

Call-out-PRT.JPGThe number of single premium buy-out contracts also hit a record. In total, there were 562 buy-out contracts, 34% higher than the number of contracts sold in 2021. This breaks the previous record set in 2019 of 500 contracts sold.

"Rising interest rates and equity market volatility created an attractive environment for single premium buy-out sales in 2022," said Mark Paracer, assistant research director, LIMRA annuity research. "While there were a couple of jumbo deals ($1 billion+), the record high number of contracts suggests broad interest from plan sponsors of all sizes. The higher interest rates improved plans' funding status, enabling more employers to mitigate their risk through a pension risk transfer (PRT) solution.
https://www.limra.com/en/newsroom/news-releases/2023/limra-2022-single-premium-buy-out-sales-topple-prior-record/





Corporate Tuition Assistance Benefit for Employees


RICK BENBOW / Newsweek / / Read Article

In the current job climate, we are seeing major companies eliminating tens of thousands of positions across all levels in a bid to cut costs and protect stock value through the coming recession. Companies of all sizes are preparing for layoffs alongside stringent measures to reduce expenses. There is an atmosphere of heightened anxiety and fear as employees scramble to look for backup positions, consider career changes or acquire new skills to make themselves more employable.

In this economic environment, the first casualties across all sizes of companies are the seemingly extravagant perks extended to employees. Cost-cutting measures immediately include rolling back various employee benefits. At the same time, there are important benefits that could be considered profit centers instead of cost centers. The foremost among these is the educational benefit or tuition assistance that several companies extend to employees, taking on the financial burden of higher education while enabling them to pursue their degrees and acquire skills alongside their employment.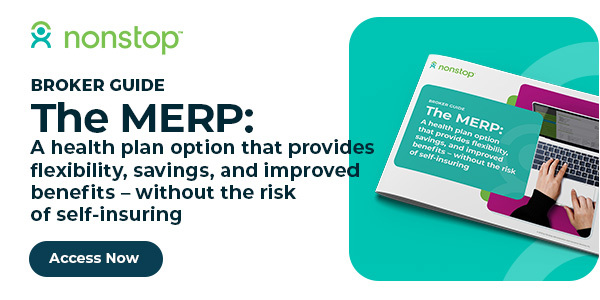 Healthcare costs were through the roof in 2022, and 2023 promises to be no different. In light of these challenges, many organizations are turning to Medical Expense Reimbursement Plans (MERPs): a proven alternative to traditional employer-provided health benefit plans, reducing both risk and unpredictability. That's why we're excited to share this handy guide to MERPs
Access Our MERP Guide For Brokers
What are MERPs?

MERPs are a broad categorization of different types of tax-advantaged reimbursement plans. Similar to traditional HRAs, they are vehicles through which employees can be reimbursed for eligible medical expenses.

What does this guide cover?
How MERPs differ from traditional plans

Why MERPs are often better than traditional plans for your clients

What makes Nonstop Health's MERP solution better than popular HRAs
Access the guide now for a deeper understanding of this innovative health benefit solution.
10 Medicare Changes for 2023 You Need to Know


Michelle Smith / Yahoo finance / February 26, 2023 / / Read Article

Medicare helps millions of retired Americans stay healthy after they leave the workforce. And every year, as technologies advance and health care demands evolve, Medicare plans change to serve the retired population.

If you're one of the nearly 64 million Americans who benefit from Medicare, keep reading to learn all about the changes to your insurance coverage in 2023. Some may even help keep your bank account balance a little higher.

1. Reduced premiums
2. A lower deductible for Medicare Part B
3. A $35 cap on monthly insulin expenses
4. Changes to income-related premium adjustments for Medicare Part B
5. Changes to inpatient hospital deductibles and coinsurance amounts with Medicare Part A
6. Additional circumstances qualify your for special enrollment
7. $0 out-of-pocket lung cancer screenings
8. More coverage for post-kidney-transplant immunosuppressive drugs
9. Additional vaccines with no out-of-pocket costs
10. Changes to prescription drug coverage through 2025





ICMG's announces the 2023 recipient of the Don Kampe Lifetime Achievement Award for 2023 is Jeff Smedsrud.


02/26/23 / ICMG / / Read Article

The Don Kampe Lifetime Achievement Award is the highest honor awarded by the Inter-Company Marketing Group. The award was established in 2001 to recognize members who have made significant, ongoing contributions of time and resources for the benefit of ICMG. The award was named in honor of Don Kampe, who served on our first board of directors, was president for two terms, and continued to be active in board and committee work for 24 years.

Jeff has been an ICMG member since 2005. He was President of Insurance at HealthCare Insurance Services, co-founder of Healthcare.com, and CEO & founder of Pivot Health.

He was a long-time Gold Sponsor of the ICMG conference and has also been an exhibitor and speaker at past conferences. His companies continue to sponsor the ICMG conference. In addition, he encouraged his employees to not only attend the conference, but to be actively involved.






Photo Of The Day